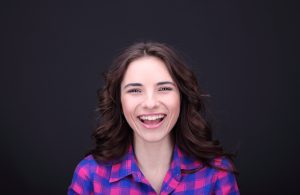 Finding the right path to your best smile is something your Prairie Village, KS dentist can help you with. For some people, the solution to their problems can be easy to identify. For instance, if you have problems with accumulated teeth stains, a professional whitening treatment is able to deliver meaningful improvements. With other issues, the path to an improved smile can be less clear. You may be able to change your appearance in impressive ways through gum contouring work! A procedure can make your teeth look longer, and it can make your smile look more symmetrical. This can lead to dramatic smile improvements, or it can be part of a bigger plan to change your appearance.
What Can Gum Contouring Work Really Do For My Smile?
Through gum contouring treatment, your dentist can address different problems that might affect the way you look. Bulky or uneven tissues can make a person's smile look asymmetrical, or awkward. You can also have a problem with your teeth looking too short or squat, due to the bulkiness of your gums. Through this one procedure, your dentist can give your smile better symmetry, while revealing portions of teeth that have been covered.
Undergoing Gum Contouring Treatment
A gum contouring procedure will see your dentist carefully take away excess tissues, while reshaping your gums to improve the way they look. The exact work required by your dentist will be determined based on your current issues. This work can also lead to potential oral health benefits, as you can become better protected against problems with gum disease.
We Can Work With You On A Plan To Fully Restore Your Smile!
Gum contouring work is often all that is needed to properly restore a person's appearance, but this can also be one step out of several to overhaul someone's smile. During an evaluation, you can express your desires for smile improvement to your dentist, and learn about the different options available to you. If you want to correct issues with your smile's color, while also dealing with your cosmetic gum troubles, you can arrange to have your teeth whitened after your contouring procedure. You can also follow gum contouring with the placement of porcelain veneers in order to make your teeth look whiter, healthier, and more uniform.
Talk To Dr. Browne About Your Gum Contouring Procedure!
Dr. Browne is ready to meet with people in and around Prairie Village, KS who want to know how they can see real smile improvements! If you want to do something about bulky gum tissues, or teeth that appear too short, we can talk with you about gum contouring. We can also review what other cosmetic improvements we might be able to offer when you visit us. To learn more or to schedule a visit with Dr. Browne, contact our office today at (913) 901-8585.