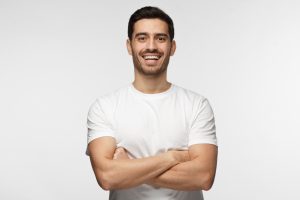 If you want to do something significant about cosmetic smile issues, you have to schedule an appointment with your dentist…right? There are certainly procedures that your Prairie Village, KS dentist can provide to boost your confidence in your appearance. After all, in addition to providing quality restorative dental work, we can give you great improvements with cosmetic dental work. With that said, we can also send you home with a personalized whitening kit that can lead to great changes to your appearance. The kits we offer include prescription strength whitening gels that are able to remove stains that products found at your local grocery store or pharmacy can leave behind.
Are You Having A Hard Time Dealing With Teeth Stains?
If you are trying to rely on over the counter whitening products, or a whitening toothpaste, to deal with teeth stains, you may grow frustrated at a lack of visible changes. These products can help you take care of surface stains, and see some improvements, but particles that stain your teeth below the surface of your enamel can continue to cause problems for you. To address these stubborn stains, you can count on the whitening kit you pick up from your dentist's office!
Starting Treatment With Your Take-Home Whitening Kit
The kit you receive from your dentist's office will include tailored trays that can fit comfortably on your teeth. Your trays are provided in order to make applying your whitening gels easier. On a daily basis, you will perform your treatment for the recommended time. After ten to fourteen days, this easy, at-home procedure can leave you with a remarkably brighter smile!
Looking Into Other Options For Cosmetic Dental Improvements
While you can feel understandable excitement at the idea of having a whiter smile, there may be other improvements you are eager to make. You can talk with your dentist about your overall goals for cosmetic improvement, and learn more about the different options open to you. If you are worried about alignment flaws, you can straighten out teeth with MTM Clear Aligners before starting your whitening treatment. With these two procedures, you can ensure that your smile goes through a dramatic improvement! You can also look into the benefits of having porcelain veneers placed on your teeth. Veneers are permanent restorations that can hide discoloration, dental damage, issues with the shape of certain teeth, and even some alignment flaws.
Talk To Dr. Browne About Taking Home A Professional Whitening Kit
A professional whitening kit that you receive from Dr. Browne can have an impressive effect on your smile, and your confidence. Our practice is excited to make these kits available to patients who are ready to take serious action against frustrating teeth stains. To learn more, or to set up a visit with Dr. Browne, contact our office today at (913) 901-8585.