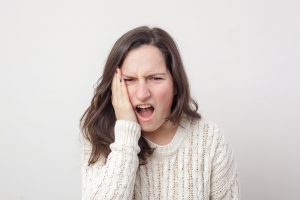 The start of a toothache can be understandably alarming – after all, no one wants to find out that they need restorative dental treatment! With that said, keep in mind that simply trying to ignore the matter is not helpful, as this could be a sign that your tooth is infected. An infection in your tooth is not going to simply heal itself – in fact, the problem can worsen, even to the point that your tooth may have to be extracted! If you are worried about a toothache, let your Prairie Village, KS dentist know about it. After a root canal treatment is performed, and your tooth is restored, you can be free of problems!
Why Is My Tooth Hurting?
While a brief flare-up of pain or sensitivity can be a matter of exposure to a temperature extreme, or minor trauma, prolonged pain can be a sign that your tooth is in real trouble. You could have an issue with a cavity that has reached your pulp, and caused an infection. You could also be suffering because of an unresolved injury that allowed an infection to occur.
Scheduling A Root Canal Treatment
Through a root canal treatment, your dentist can remove harmful bacteria that have infected the center of your tooth. The treatment can take care to remove all infected tissues, stopping the progression of a problem, before your pulp is sealed, and your dentist provides you with a dental crown as a restoration.
It is important to act promptly if you need a root canal treatment. After enough time passes, bacteria can pass through your tooth, leaving through the roots to create more problems. If too much damage is done to your tooth structure, the only option left can be to extract it!
We Can Help You Feel Comfortable During Your Dental Procedure
Some people have different degrees of discomfort than others when it comes to oral health care. If you are nervous about the idea of a root canal, you can be glad to know that your dentist is able to provide comfort through dental sedation. The right sedative can have the effect of keeping you calm and relaxed, even as you undergo care. With nitrous oxide, you can enjoy the benefits of sedation, and have the effects wear off in time for you to drive home safely!
Talk To Dr. Browne About Scheduling Treatment For Your Toothache
Dr. Browne is ready to help you do something about a persistent toothache! At our practice, the troubles with your tooth can be identified, and you can look forward to quality restorative care. To learn more, or to set up a visit with Dr. Browne, contact our office today at (913) 901-8585.