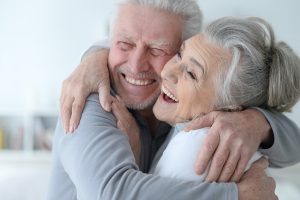 If you do not know what prosthetic dental work can do for your smile, and your oral health, you can be unaware of the many benefits gained from replacing lost teeth. Did you know that a prosthetic can be permanently placed, and remain stable enough to help you bite and chew food? Did you know that with a dental implant, you can protect your jawbone from losing mass? Restoring an incomplete smile is about more than just a change in your appearance and confidence. You can talk with your Prairie Village, KS dentist's office about the important functional advantages you gain back by replacing lost teeth.
How Much Can You Really Gain From Having Your Full Smile Restored?
A properly restored smile can look attractive, and it can help you with your dental function. If even one tooth goes missing in a person's upper or lower teeth, it can interfere with their bite function in ways that have long-term consequences. For instance, trying to avoid the gap of a lost tooth can force you to ask more of your remaining teeth, which leads to increased wear and tear. The modified movement can also start to put a strain on your jaw, which can build to you suffering problems with TMJ dysfunction.
In the long-term, people who experience tooth loss need to be aware of the problem they create for their jawbone. An absent tooth is no longer able to stimulate the bone – this interferes with the body's delivery of nutrients, which can lead to the loss of bone mass. As a result, you can experience a deterioration of your jaw that changes your appearance, and your oral health. Correcting this issue will require the use of a dental implant to hold a restoration.
Discussing Dental Implants With Your Dentist
Dental implants offer many important benefits to a person who wants to regain their complete smile. In addition to stimulating your jawbone, and protecting you against deterioration, the implant helps keep a restoration in place, giving enough support to let you bite and chew without issues. The implant's placement in your jawbone can even help keep other teeth stable, as it provides more support for the roots of your neighboring teeth.
Your Dentist Can Help You Take On Significant Tooth Loss
If you have lost several, most, or all of your teeth, you should know that expert prosthetic work can make a big difference in your life! You can count on a larger bridge or denture to deliver cosmetic improvements, and functional support. With a series of implants, your dentist can even make sure that the restoration you receive is stable and comfortable.
Dr. Browne Is Ready To Help You Show Off A Complete Smile Again
Dr. Browne is proud to offer quality prosthetic dental services to individuals in and around Prairie Village, KS! To learn more about how we can help you manage tooth loss, or to schedule a visit with Dr. Browne, contact our office today at (913) 901-8585.