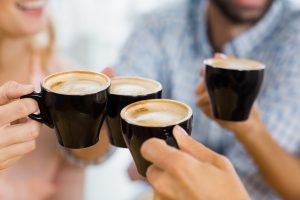 When you spill coffee on a white shirt, the resulting stain can be quick to form, and tough to address. Teeth stains caused by coffee can be slower to show themselves, but if you rely on store bought whitening agents, it can feel difficult to manage. Fortunately, you can rely on a professional whitening treatment to take care of accumulated stains left by coffee, and other food and drink products. Your Prairie Village, KS dentist's office can meet with you to discuss the effectiveness of this cosmetic dental procedure when it comes to brightening your smile. You can also make time to discuss the other cosmetic services that are available to you.
Teeth Stains Can Gradually Build Up Over Time
Cleaning your teeth thoroughly and consistently can help you clear away those particles left by different foods and drinks that can stain your smile. Unfortunately, these stains can continue to gradually build, even if your habits have kept you free from cavities. Store bought whitening products can give you a means of removing the stains that have gathered on the surface of your enamel, but it can be difficult to reach deeper stains with something you purchase at your local grocery store. Fortunately, you can take home a whitening kit from your dentist's office that can have a bigger impact on how you look.
Talk To Your Dentist About A Professional Whitening Treatment You Can Take Home
Your dentist can send you home with a professional whitening kit that features strong (and safe) bleaching agents, and a custom tray to help you apply your whitening treatment evenly. Follow the instructions and apply the whitening agents to your teeth on a daily basis for ten to fourteen days. At the end of this process, you can look forward to having a brighter, more impressive smile!
Making Long-Term Plans To Sustain Your Best Smile
An effective preventive dental care routine can protect you from the harmful effects of tooth decay. Brushing and flossing effectively, along with regular dental exams, can keep you protected against the different threats facing your smile. If you want to make sure you are also doing your best to preserve your appearance, you should keep up with cleaning your teeth while also limiting your consumption of dark and color-rich products. Coffee, tea, red wine, and soft drinks are all capable of making changes to the way you look. Soft drinks can be particularly troublesome, as their high sugar content can also make you more likely to need restorative dental work.
Talk To Dr. Browne About Taking Care Of Frustrating Coffee Stains
If your morning coffee habit has left you with dull, discolored teeth, bring up your concern with Dr. Browne. At our practice, we are proud to make quality cosmetic dental improvements available to people in and around Prairie Village, KS! If you are ready to learn more, contact our office today at (913) 901-8585.