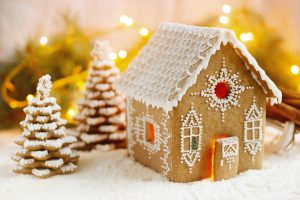 Are you ready to show off your culinary creativity, and help support a good cause? You can do both during the Prairie Village Gingerbread House Party! This event, now in its tenth year, helps to raise funds that help deserving Prairie Village kids enter summer programs. You and your team can showcase your artistic side while adorning your gingerbread house with the various candy and food items available to you. Class space is limited, and advanced signup is required! While gingerbread houses can be fun to build, remember that overdoing it with your sweets can be hurtful to your teeth. Your Prairie Village, KS dentist is always ready to help by providing routine dental exams, and offering restorative dental work when you need to treat a cavity.
When:
The Gingerbread House Party is taking place on Sunday, December 2. The event will last from 1:30 pm until 3 pm.
Where:
This event is taking place at Briarwood Elementary, located at 5300 W 86th Street.
Cost:
If you register by November 26, the cost per house will be $42. The price will move to $50 as of November 27.
Activities Include:
You can work with a group to create a unique gingerbread house with an array of tasty items provided at the event.
For More Information:
For more information about this event, click here.
Schedule Your Next Dental Appointment With Dr. Browne!
Dr. Browne is proud to help Prairie Village, KS families – and families in surrounding areas – enjoy access to quality dental care. If you have questions, or if you wish to set up an appointment, contact our office today at (913) 901-8585.