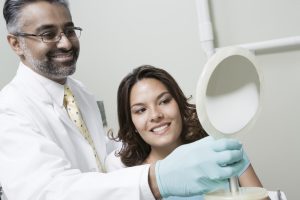 What should you expect when you see your Prairie Village, KS dentist for any restorative dental procedure? When it comes to addressing decay, your dentist will carefully remove the portion of your tooth that has been damaged by a cavity. After this is done, your tooth will need support – unfortunately, the damage from a cavity is not something your tooth can regrow on its own. With a tooth-colored filling, your dentist is able to replace lost material with a biocompatible resin, which offers esthetic benefits, and important support. The goal during restorative work is to make sure that you retain confidence in your smile, and your ability to bite and chew. Modern, tooth-colored fillings can help you with both issues, making them popular with patients.
Feeling Confident In The State Of Your Smile, And Your Tooth, After A Cavity Is Addressed
A modern dental filling can bond directly to your tooth structure, so that it remains stable once placed. Because the material can match the color of your enamel, you can rely on it to blend in effectively, and allow you to remain confident in the way you look. Its support also helps keep the tooth stable, and strong enough to absorb biting and chewing pressures.
What Happens If My Cavity Is Too Advanced For A Dental Filling?
In some cases, a dental filling simply lacks the ability to provide all the support your tooth needs after decay. To address your smile needs in a situation like this, your dentist can offer a custom dental crown. Crowns can also be made to provide cosmetic benefits. Because they completely cover your tooth above your gum line, you can feel confident as you bite and chew that your vulnerable tooth is safe and secure.
Dr. Browne Can Restore Your Tooth After A Cavity By Placing A Tooth-Colored Filling
Dr. Browne is ready to help patients in and around the Prairie Village, KS area who need to address tooth decay. In addition to offering restorative work, you can rely on us for care to preserve your healthy smile, and to address any cosmetic concerns you might have. To learn more, or to schedule a visit with Dr. Browne, contact our office today at (913) 901-8585.