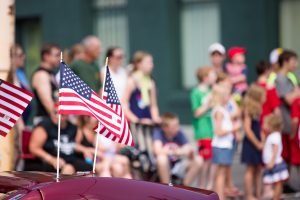 During this year's Veterans Day, you and your family can take part in a special celebration held at Overland Park's Sprint Campus! The city, along with Sprint and other partnering organizations, will be hosting a special Veterans Day event that encourages residents to show support to local veterans. There will be special exhibits and events, along with special vehicles visitors can check out. Food trucks will be on hand to provide lunch for everyone who attends. As the year draws to a close, your Prairie Village, KS dentist's office is ready to help patients who are due for regular dental care. If you have remaining dental benefits you have not used yet, or if you have a concern about a smile problem, let us know! 
When:
The Veterans Day Celebration will take place on Thursday, November 8 from 11 am until 2 pm.
Where:
Sprint Campus is located at 6200 Sprint Parkway, Overland Park, KS.
Cost:
This is a free event that the public is encouraged to check out!
Activities Include:
You can enjoy special Veterans Day activities that create opportunities to show support to local veterans. You can also enjoy special activities and exhibits. Food trucks will be at the event to provide food.
For More Information:
For more information about this event, click here.
Schedule Your Next Dental Visit With Dr. Browne!
If you want to schedule a routine dental checkup, or if you want to address something that may be wrong with your smile, you can count on great care from Robert M Browne, DDS! Our practice is proud to offer a variety of helpful oral health services to patients in and around Prairie Village, KS. To learn more or to schedule a visit with Dr. Browne, contact our office today at (913) 901-8585.