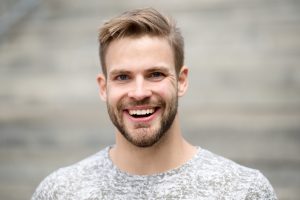 By targeting specific smile flaws, and carefully addressing them, your Prairie Village, KS dentist can help you show off terrific cosmetic improvements. For many people, the solution to their troubles lies in contouring. This can be part of a dental bonding and contouring treatment, where your dentist makes precise modifications to flawed teeth. Contouring can also refer to periodontal care. In some cases, patients will undergo gum contouring to address teeth that seem squat, or short. Gum contouring also makes it possible to address an issue with periodontal tissues that appear uneven, or bulky. If you feel unsure of what procedure might be the best for your needs, you can address your interest in having work done during your next routine dental checkup.
Taking Care To Carefully Contour Problem Teeth
Tooth contouring is performed on teeth that appear too large, or those that seem uneven. Targeting particular teeth can be effective at making big overall changes. Because your smile is so dependent on symmetry to look good, it can take all of one flawed tooth to seriously disrupt the way you look. Your dentist may also perform a bonding treatment, where certain teeth are esthetically improved through the careful application of a special resin material.
How Does A Gum Contouring Treatment Lead To A Better Smile?
When your gums are too bulky, and make your teeth appear squat, it can hurt the way you look. Gum contouring can address this problem by removing excessive tissue, and revealing more of your teeth. This procedure is also effective when uneven tissues cause your smile to appear uneven or asymmetrical. Patients are often able to see their treatment completed after a single appointment.
Talk To Dr. Browne About Making Big Smile Improvements
If you want to see real changes to your smile, talk to Robert M Browne, DDS about scheduling cosmetic dental care! Our practice is proud to offer support to those individuals who are hoping to make meaningful improvements to the way they look. To learn more about cosmetic dental work, or to schedule a visit with Dr. Browne, contact our office today at (913) 901-8585.