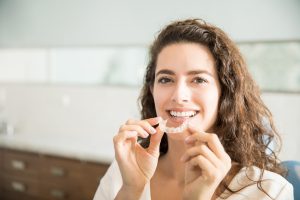 When your smile is affected by poorly aligned teeth, you may worry that the only way to make corrections is through metal braces. While this approach to orthodontic treatment can offer great results, patients often hesitate to move forward with treatment because they worry about how they will look with braces. MTM aligners provided by your Prairie Village, KS dentist can provide you with the kind of results you hope to see from orthodontic treatment, while avoiding the conspicuous effect on your appearance metal braces can have. This can be especially beneficial to people who work in a professional setting, or appearance-conscious teenagers. In addition to making improvements to your smile, fixing alignment flaws can improve your bite alignment, and your ability to stop cavities from forming.
How MTM Aligners Can Provide A Different Approach To Orthodontic Care
Instead of having metal braces permanently affixed to your smile, you can have MTM aligners made for you. With these clear, removable aligners, you can enjoy a treatment experience that does not cause changes to the way you look. You can also find it easier to eat, and clean your teeth, as you can take your appliance out at the appropriate times.
Your Orthodontic Work Can Do More Than Just Improve How You Look When You Smile
When a patient leaves their poor dental alignment uncorrected, they can struggle with oral health hurdles that straightened teeth can clear away. If your unevenly spaced teeth affect your bite alignment, you may have a greater chance of developing TMJ problems as a result. Poor alignment can also make it harder for you to clean certain areas of your smile. Because these areas are harder to clean, you can suffer more cavities.
Find Out How MTM Aligners Can Help You!
Robert M Browne, DDS can provide patients with orthodontic care without relying on metal braces. MTM aligners can move your teeth to their appropriate positions without interfering with your appearance. Because you can remove them on your own, they can also be more convenient. To learn more or to schedule a visit with Dr. Browne, contact our office today at (913) 901-8585.