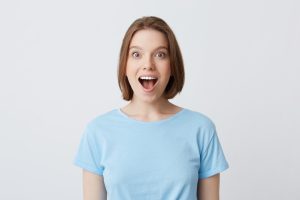 If you talk with us about porcelain veneers at our Prairie Village, KS practice, if you search them online, and if you happen to run into someone wearing them, you'll notice something: Much of the hype surrounding this cosmetic treatment centers on the fact that they look so natural. This is one of those things that you hear a lot and might witness but there's something that might be missing for you: You'd like to know what makes them look this way. How can creating a facade over your smile not end up looking artificial? We can answer that so very easily!
The Way We Customize Them
One of the reasons porcelain veneers can look so natural, like they're your own teeth, is the fact that we shape them to blend with your features. This means we take the way your face looks, your other features, your smile as a whole, and more into consideration. We then carefully craft veneers that adhere to your cosmetic goals and that complement you, so they look like your own teeth. Remember, all faces are unique! So, your veneers must be unique too, and they'll look like your own smile.
Their Translucent Quality And Material
A quick up-close glance at your teeth in a mirror will reveal to you that they're a bit see through, or translucent. Porcelain veneers are translucent, too, crafted from thin ceramic. If they were opaque, they would look artificial. Instead, the material is very much like your dental tissue. Light bounces off of it in a similar fashion, as well, so veneers simply look genuine.
Their Multi-Layered Engineering
If you ever talk with us about the way your teeth are constructed, one of the things we will mention to you is that they are composed of layers. You've got enamel on the outside, protecting deeper layers (like dentin). In a similar fashion, porcelain veneers are crafted out of multiple layers. Remember that translucency we talked about? The layers of translucent ceramic create a very similar layered effect, which ends up looking much like a natural tooth (fortunately, it also offers stability, so your veneers can withstand wear and tear with ease!).
Learn About How Veneers May Work For Your Smile
Talk with our team soon about veneers and the way they may work for your smile if you're ready for a serious esthetic improvement. Learn more by scheduling a visit in Prairie Village, KS by calling Robert M Browne, DDS at (913) 901-8585.