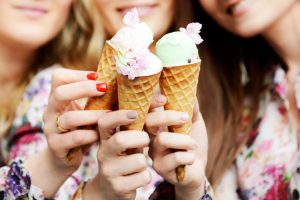 Ah, yes! There are two very exciting things happening at The Village and you're probably going to want to partake in both of them. The Scoop + Shop Event 2018 provides you with plenty of reason to smile as it combines two beloved pastimes: Enjoying ice cream and shopping some exceptional sales! Make sure you take the time to stop by.
What Is This?
The Scoop + Shop Event is just what it sounds like. Take your time perusing the Summer Sale at The Village, while you stay refreshed with a free scoop of ice cream. It's a pretty sweet deal!
When Is It?
This event is going to be taking place on Saturday, July 14th, 2018 from 11am to 2pm, so don't miss it!
Where Is It?
The Scoop + Shop event will be taking place at The Village Shopping Center, which is located at:
71st Street & Mission Road
Prairie Village, KS 66208
How Much Does It Cost?
It's a free event (and the ice cream scoop is free too!).
How May I Find Out More?
Feel free to contact The Village at 913-362-9668 with any questions you may have about the venue or the event!
Find Yourself With A Healthy Smile When You Schedule Prevention
Discover through consistent preventive care at our practice that you can easily keep your smile in lovely condition! Learn more by scheduling a visit in Prairie Village, KS by calling Robert M Browne, DDS at (913) 901-8585.