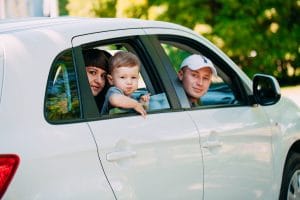 Gone are the days when little ones travelled sitting in mom or dad's lap, or playing rambunctiously in the back seat of the car. The good news is, car safety seats for little ones have made travel safer. Car seats come with amenities like super-comfortable harnesses, plush inserts, stroller conversion options, and much more. Proper installation is a must for a car seat to function properly and protect your child. Your caring Prairie View family dentist can protect young teeth, and a car seat will protect your whole child!
Who Can Request Help With Car Seat Installation?
Residents of Prairie Village and Mission Hills, and employees of businesses in these cities qualify to make an appointment. If you live in another Kansas city, the Kansas Highway Patrol in Olathe, Kansas may be able to assist you, or guide you towards further assistance. Their contact number is 913-782-8100.
What Should I Know in Advance?
A full list of information is available at the City of Prairie Village Website, under Car Seat Safety.  Here are a few highlights:
Your seat should be in good working order

It must not be near or past the expiration date

Please check the recall list at Kansas Safe Kids, and Kansas Booster Seat, and the National Highway Traffic Safety Administration to make sure your booster seat is not listed in a safely recall.
You will need to bring your car owner's manual and the booster seat manual with you
and more (see the guidelines at the City of Prairie View, KS website)
How Do I Get A Car Seat Safety Check?
You will need to call in advance to schedule an appointment. Generally, Traffic Unit officers see appointments on Wednesdays. To make an appointment, please call 913-385-4656.
Help Keep Your Child's Smile Safe in the Car
Your chid's good health and safely, from teeth to toes, are always our concern. Learn more by scheduling a visit in Prairie Village, KS by calling Robert M Browne, DDS at (913) 901-8585.