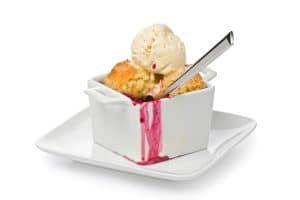 You're going to want to put Cobbler Night at Dolce on your calendar right now, so that you don't accidentally book yourself for something else. Why is this so important? Well, if you fancy yourself a fan of ice cream and cobbler and everything lovely about summer, Cobbler Night encompasses everything you enjoy and serves it up to you in a bowl!
About the Event
As you may have already figured out, Cobbler Night at Dolce is your chance to spend some time at the Prairie Village Art Show with something sweet to savor. Stop by the shop for cobbler topped with a scoop of ice cream (this is a popular event, so show up early before it runs out!). Hint: The shop offers a gluten free option.
Event Location
Enjoy this sweet event (and try to remember to sip some water after to cleanse your smile) by heading to Dolce Bakery at the following address:
3930 West 69th Terrace
Prairie Village, KS 66208
Event Date and Time
The cobbler and ice cream extravaganza will take place on June 1st, 2018 from 6pm to 8pm.
Cost
You may enjoy cobbler for $4.00 and add ice cream for $1.50.
Contact Information
Feel free to give the bakery a call at (913) 236-4411.
Protect Your Smile With Tips For Daily Care
If you need help with daily care, such as what to do if you have a sweet tooth, remember that bringing up questions during a visit is always welcome. Schedule your next checkup soon! Learn more by scheduling a visit in Prairie Village, KS by calling Robert M Browne, DDS at (913) 901-8585.