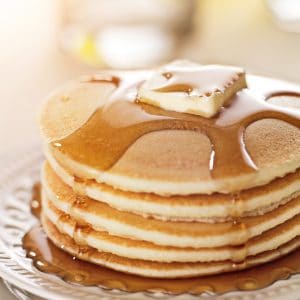 What's better than realizing the Prairie Village Art Show is quickly approaching? Realizing how delicious it's going to be to attend, of course! To get things started with some yummy food, remember to show up for the Pancake Breakfast: Courtyard Cakes event!
About the Event
This is your opportunity to sit down as the art show festivities begin, while you fuel up on a delicious pancake breakfast. Show up with your friends, your family, and anyone else ready to chow down on pancakes, sausage, juice, and coffee (followed by some lovely art)!
Event Date and Time
The pancake breakfast is ready for you on Saturday, June 2nd, 2018 from 8:30 to 10:30am.
Event Location
Head to the Clock Tower Courtyard at The Village, located at:
71st Street & Mission Road
Prairie Village, KS 66208
Event Admission
You may indulge in this breakfast for $5 per person!
Contact Information
Still need just a bit more info about the breakfast event? You may contact 913-362-9668.
Give Your Smile What It Needs With Checkups And Cleanings
Remember that your smile needs a cleaning, as well as a checkup, every time six months go by! Learn more by scheduling a visit in Prairie Village, KS by calling Robert M Browne, DDS at (913) 901-8585.