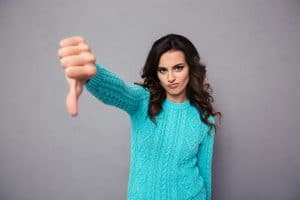 When you have a toothache, you know on an instinctual level that the best way to react to this change is to do something about it. As far as what we would like you to do, this means bringing yourself to our office for a checkup, so you know why this pain is there and how we can fix it, so you no longer deal with discomfort. However, you may decide to try to ignore what's going on, possibly in hopes that it "goes away." When you neglect the ache, some not-so-wonderful things may follow. Consider them, so you gather up the motivation to come on in!
It Causes Irritability
Your toothache might really wreck your mood throughout the day. If you deal with nonstop discomfort that continues without much stop, you may find that you have trouble communicating with others in a friendly manner, which can affect personal relationships, work, and more.
It Makes You Worry
You may not even realize that you're worrying but if you're thinking about your toothache throughout the day, trying to figure out what's wrong, trying to ignore the pain, wondering if it's something worse than you assume it is, and more, you may stress yourself out. See us instead!
It Results In Uncomfortable Chewing
You might find that your toothache makes chewing uncomfortable. This is not ideal, considering you are eating at least three times a day to keep yourself fed and healthy! Rather than trying to work around the pain, see us for treatment to end it.
Treat Your Toothache Soon To Resume Comfortable Daily Life
See us soon for help resolving your toothache, so you can get back to your daily life! Learn more by scheduling a visit in Prairie Village, KS by calling Robert M Browne, DDS at (913) 901-8585.