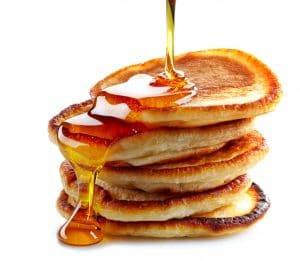 You've probably heard the question, "if you could eat a meal with anyone, who would it be with?" During this time of year, who else could you possibly want to sit down with over some delicious food if not Santa? Fortunately, you and your family will have your wish during the upcoming Breakfast With Santa!
About the Event
Santa is going to be available to indulge in some very yummy breakfast fare with you and your kids. Bring your appetites for all of your faves (and some gourmet selections, too) like quiche, pancakes, apple cider, and the list continues. Remind your little ones to bring their gift wishes, too, in case Santa asks!
Event Date and Time?
The breakfast will happen on Sunday, December 17th, 2017 from 9am to 10am.
Event Location
You can join Santa Claus for breakfast at the Lenexa Public Market at "The Kitchen" at the following address:
8750 Penrose Lane
Lenexa, KS 66219
Event Admission
Just $15 per person gets you admission to see Santa and includes your delicious breakfast.
Further Details
It is essential that you register (there's not room for everyone!) by the 16th. You may call (913) 477-7516.
Treat Your Teeth Well With Checkups
Give your smile the gift of wonderful care this season by scheduling your next checkup. Learn more by scheduling a visit in Prairie Village, KS by calling Robert M Browne, DDS at (913) 901-8585.