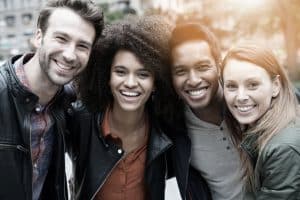 So, you've got adult kids out there in the world now. They're doing everything on their own but they are still your children! Then again, if they're just starting out (perhaps they have recently left to attend college), then there's still a lot of life-related things that they are not yet handling all on their own. One example, of course, might be your children's dental care. Fortunately, we are on hand to help you with the details, to guide you, and to help you guide them.
Talk With Them About Tooth Loss
When we talk with you about your smile and what will happen if you do not care for it, tooth loss is always a factor. You want to keep your teeth, so you brush and floss, you come in for checkups and cleanings, and you take care of restorative treatments ASAP. Now that your children are adults, it's certainly important to explain this consequence to them. All they need to do to keep their teeth is follow these rules.
Send Them What They Need
If your kids are just starting out as grownups, then they might not be ready to tackle the full level of responsibility when it comes to dental care. Not to worry. You've been buying their toothbrushes, paste, floss, and more for 18 years, so keep it coming. Send them what they need or give it to them when they visit you. It benefits both you (you'll feel relieved) and them!
Encourage Them To See Us
If you are not still planning your kids' dental care visits for them, encourage them to come in to our practice. Let them know how often they should see us and, if they have never been to us before, tell them why you feel comfortable at our practice.
Remember To Ask For Guidance During Your Visits
Whether you need help with your own dental hygiene or you have other questions, such as how to help your adult kids with care, we will be happy to help. Learn more by scheduling a visit in Prairie Village, KS by calling Robert M Browne, DDS at (913) 901-8585.