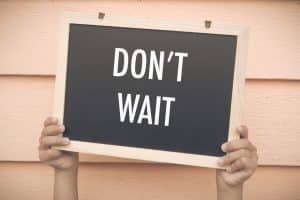 Sometimes, procrastinating won't cause you too many problems. Unfortunately, this is not the case when it comes to scheduling your root canal treatment. The moment you discover that you need one, so your smile can return to its best state of health is pretty much the exact moment you should schedule your visit. Not sure why this is so very urgent? To help you understand why hesitating can lead to disaster, we've collected a few reasons that will provide you with the information you need to feel motivated.
If You Wait, You Could Lose Your Tooth
If you don't do something about your tooth the moment we encourage you to schedule a root canal treatment, you could end up losing that tooth. Why? Well, a lot of things can happen once the tooth is already seriously decayed or injured. Either it will become far too decayed to treat, too infected to save, or too damaged (which means there isn't enough tissue left to salvage).
If You Wait, Infection Can Spread
There's likely an infection already occurring if you need a root canal treatment. If you ignore it or simply wait too long, it's going to continue to become worse. As a result, it's going to end up abscessing. When the abscess breaks open, the infection will no longer remain in one isolated area but can infect other parts of your mouth.
If You Wait, You Can Become Very Ill
Did you know that the infection from an abscess can make its way throughout your body if it gets into your bloodstream? Avoid this potentially very dangerous issue by receiving a root canal right away.
Schedule Your Root Canal With Our Practice
Remember that when you require a root canal, the sooner you address it, the safer it is for your smile and overall health. Learn more by scheduling a visit in Prairie Village, KS by calling Robert M Browne, DDS at (913) 901-8585.