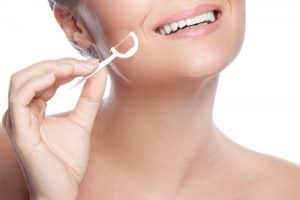 Just when you think you know all you need to know about your dental hygiene, a variable shows up, leaving you scratching your head one more time as you try to figure out what's going on. While you might be someone who usually relies on dental floss and then discovers dental picks, you may wonder if they're okay to use. Or, perhaps you have used the picks for quite some time and never considered the fact that they might be bad. The truth is, this isn't a black-and-white issue. Let's get down to the details!
When They're Good For Your Smile
Dental picks can be beneficial for your oral health in particular circumstances. For instance, perhaps you're out at a dinner and you get something stuck between your teeth. If you have a dental pick on hand, you may excuse yourself, remove it quickly in the restroom, and go back to your table. For temporary, I-don't-have-my-dental-floss-on-hand moments, this can act as a solid backup to help you remove plaque and food particles from your smile.
When They're Not So Good For Your Smile
We never suggest you rely on dental picks as your primary method of flossing your teeth. You see, this product can actually prove dangerous for your oral health when used consistently. Here's why: First, you should use fresh floss every time you floss in a new space, which means using one pick throughout your smile isn't ideal. In addition, the pick end can injure your gums if you aren't careful.
Get Answers To Questions About Dental Hygiene
We can help you learn more about what you can accomplish and how to do so safely for your smile, when you come in to see us for checkups. Learn more by scheduling a visit in Prairie Village, KS by calling Robert M Browne, DDS at (913) 901-8585.