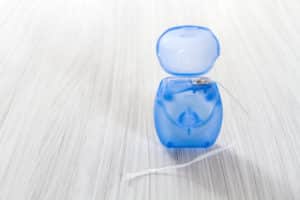 Do you think that over the years, you've come up with quite an amazing and effective system of flossing that has been working wonders for you? If you are like many patients, you might answer with something along the lines of, "No, not really." If so, we encourage you to take a moment to check in on your daily technique for this dental hygiene step. By making even little improvements and learning about how to make it easier (and more successful), you'll be doing an even better job keeping your oral health safe.
About Your Preparation
Before you even begin flossing, you need to remember that this aspect of your dental hygiene session requires some quick preparation. Follow our suggestions and you might find that it's easier (and that you're less likely to end up with tingling fingertips). Start by wrapping the ends of 18 inches of floss around your middle fingers. You can then hold the floss and guide it with your index fingers and your thumbs as you go.
About Your Motions
Your motions are very important. To get the most out of your dental hygiene, you need to remove plaque, not just big food particles. As a result, we encourage patients to bend the floss to the side so it gently hugs the tooth edge. Then, beginning at the base of each tooth just beneath the gum tissue, drag the floss up. Repeat on each tooth edge.
About Your Thoroughness
Of course, if you are just flossing your front or back teeth, you aren't going to reap the full benefits of dental hygiene at home. Make sure you're doing a thorough job and that you're protecting your oral health by flossing your whole smile.