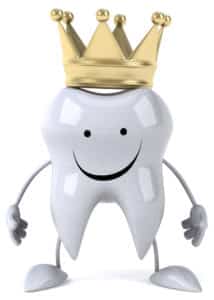 Certainly it's not anyone's favorite reason to go to the dentist, but a dental crown on one of your precious pearlies can save you a lot of trouble in the future. One way to relax about your prospects on the dental front is to inform yourself. Asking questions about dental crowns can help you to feel more at ease about getting one put in.
When Do You Need a Dental Crown?
If you have a cavity that has progressed to extensive tooth decay, you may need to get a crown. A crown fits over the entire top of your damaged tooth, to hopefully strengthen it and end the decay and damage. This can only help if the decay and damage are contained to the enamel layer of the tooth. If the decay has already spread to the root of the tooth, you may need a more involved procedure, such as a root canal.
What Kinds of Dental Crowns Do You Offer?
We offer several different kinds of material for dental crowns, each of them has a specific benefit. Porcelain looks the most like a natural tooth, but isn't the strongest option. Metal is strong, but it doesn't look like the actual tooth. A good option is porcelain fused to metal or PFM, which combines the strength of metal with the look of porcelain. The final option we offer is zirconia, a material much stronger than porcelain with a similar look.
What are the Alternatives?
If your tooth hasn't suffered too much damage, you may be able to squeak by with a filling. If you have suffered more severe decay, you may need to consider a root canal. If you simply leave your tooth as it is, you could end up suffering infection, tooth loss, or other medical issues. Once you have your crown in place, make sure to brush, floss, and keep all check ups with your dentist to prevent future damage.
ABOUT YOUR PRAIRIE VILLAGE

, KS

DENTIST

:
With decades of professional dental care experience, native of Kansas City, Robert M Browne, DDS is proud to provide general, cosmetic, restorative, and prosthetic care to patients from Prairie Village and surrounding communities. To learn more or to schedule a visit with Dr. Browne, contact our office today at (913) 901-8585.