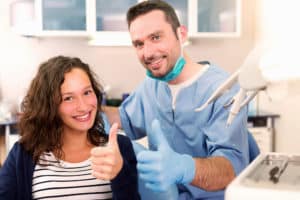 Do you know what to expect when you see your dentist about an existing problem? Restorative dental work can eliminate active issues with a tooth, so that you can return to your optimal oral health. These procedures can involve the removal of damaged tooth structure. While this loss may not regrow itself, your dentist can replace what was lost. In any treatment you undergo, your health and appearance are prioritized. In fact, your dentist can use materials that are intended to help you keep an attractive smile.
1. Putting Off A Treatment Can Let The Problem Worsen
Waiting to treat something like a cavity can mean more decay spreads to your tooth. Once a cavity forms, there is no natural defense that will contain its growth. If the spread of decay is caught in time, you can receive treatment with a filling. However, if you ignore a problem that spreads to the living tissue in the center of your tooth, a root canal will be required to stop the cavity.
2. There Are Cosmetically-Pleasing Treatment Options
Your dentist understands that how your smile looks is important. There are restorative techniques that are mindful of your appearance. Composite resin is used for fillings because it can look like enamel, and bond directly to your tooth. If you need a dental crown, ceramic material will closely resemble a natural tooth, which means it will be a less conspicuous restoration.
3. OraVerse Can Help Improve Your Recovery From Anesthesia
If your restorative work requires the administering of a local anesthetic, OraVerse can help improve your recovery time. This means you can return to your day sooner, while experiencing less difficulty or embarrassment while you recover from a procedure.
ABOUT YOUR PRAIRIE VILLAGE

, KS

DENTIST

:
With decades of professional dental care experience, native of Kansas City, Robert M Browne, DDS is proud to provide general, cosmetic, restorative, and prosthetic care to patients from Prairie Village and surrounding communities. To learn more or to schedule a visit with Dr. Browne, contact our office today at (913) 901-8585.