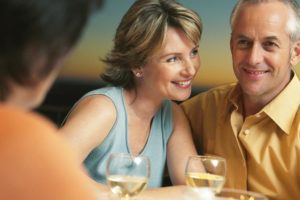 How confident are you that you can recognize problems with your gums? A periodontal infection can cause different symptoms to appear, but it can be painless. You should be on the lookout for swelling, or more redness in your gums. You may also notice that your gums bleed more easily when you brush. Putting off treatment can allow an infection to worsen; advanced gum disease can cause real problems, and be difficult to address. With an ultrasonic deep cleaning, your dentist can help reverse developing gum disease, so that it does not cause long-term effects on your oral health.
Stopping The Progression Of Gum Disease Before It Does Real Harm To Your Oral Health
In its advanced form, periodontitis, gum disease can start to attack the tissue surrounding your tooth sockets. This weakening of support for teeth is why advanced gum disease is a leading cause of adult tooth loss. For patients who already have missing teeth, a dental prosthetic can be key to regaining your complete smile.
How Routine Checkups Protect You From Problems Like Advanced Gum Disease
With routine checkups, you enjoy an examination of your teeth and gums that can alert your dentist to gum disease. With this intervention, your dentist can recommend an ultrasonic deep cleaning in time to stop a developing infection. Routine checkups can also help with cavity treatment, as small cavities can be caught – and fixed – early. A smaller cavity can be removed from your tooth, which can then be restored with a filling. However, if a cavity has time to reach your pulp, you will need a root canal treatment.
ABOUT YOUR PRAIRIE VILLAGE

, KS

DENTIST

:
With decades of professional dental care experience, native of Kansas City, Robert M Browne, DDS is proud to provide general, cosmetic, restorative, and prosthetic care to patients from Prairie Village and surrounding communities. To learn more or to schedule a visit with Dr. Browne, contact our office today at (913) 901-8585.