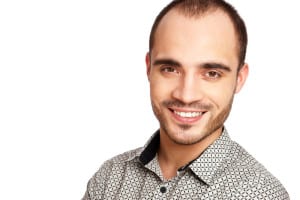 Porcelain veneers make dramatic, positive changes to your teeth. This cosmetic dental treatment enables your dentist to hide several flaws across multiple teeth, and provide you with a smile of uniform attractiveness. Veneers are bonded directly to the front of your teeth, and are meant to be permanent additions. It is common for recipients to have a small amount of enamel removed in order to accommodate the space taken up by veneers. Because they are not removable, and are a long-lasting addition to your teeth, it is important to maintain their condition and appearance as well as possible, to sustain their beautifying effect on your smile.
Limit Dark Beverages
Unlike your enamel, porcelain veneers can not have their color improved by a cosmetic whitening procedure. While the porcelain material used to construct materials will resist stains, you should still limit your risk for discoloration. Just as dark beverages like coffee and tea can eventually discolor a cup, prolonged exposure to these beverages may begin to discolor your veneers.
Avoid Chewing On Hard Surfaces
Veneers are strong enough by design to withstand the pressures of chewing and biting, but they are not indestructible. Chewing on hard substances, like ice, can leave chips or cracks in your veneers. If a veneer becomes chipped, or comes off of your tooth, you will need to have it replaced. Sufferers of bruxism (reflexive teeth grinding) face similar risks. If you clench or grind your teeth, you should seek treatment, in order to avoid damaging your veneers.
Keep Up With Regular Oral Care
You should continue to brush and floss your teeth regularly after receiving porcelain veneers. Using a non-abrasive toothpaste can help avoid leaving scuffs and scrapes on the surface of your veneers.
ABOUT YOUR PRAIRIE VILLAGE

, KS

DENTIST

:
With decades of professional dental care experience, native of Kansas City, Robert M Browne, DDS is proud to provide general, cosmetic, restorative, and prosthetic care to patients from Prairie Village and surrounding communities. To learn more or to schedule a visit with Dr. Browne, contact our office today at (913) 901-8585.