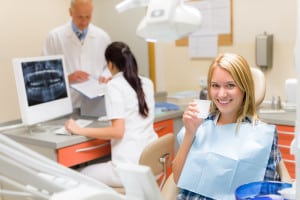 The thorough cleaning you receive during a routine dental checkup goes beyond what you can provide on your own. Your hygienist has training and tools available to ensure that your mouth is comprehensively cleaned during a visit. For patients who are worried about gum disease, a deep cleaning (also called a periodontic cleaning) enables your dentist to eliminate bacteria on the roots of your teeth. By cleaning your roots, your dentist can remove bacteria that could otherwise infiltrate your gums, and cause gum disease. Because these areas are difficult to access, you may need to schedule more than one visit to complete a deep cleaning.
Deep Cleanings And Gum Disease
Gum disease occurs when plaque (the filmy accumulation of bacteria in your mouth) accesses your gum line. It can cause several problems with your gums, like swelling and easy bleeding, and can also cause you to have bad breath. More severe cases of gum disease can cause your gum line to recede from your teeth, and increase the likelihood that you could lose a tooth or teeth. Deep cleanings help protect you from gum disease by targeting bacteria on the roots of your teeth, which lie under your gum line. To reduce discomfort, your dentist can remove plaque and tartar by using ultrasonic technology instead of scraping your teeth.
Other Benefits Of Professional Teeth Cleaning
When you visit your dentist for a routine visit, you can have a thorough cleaning of your mouth, and a review of your overall oral health. These visits enable your dentist to catch problems in their early stages, even before symptoms have started to occur. Early detection for major issues, like oral cancer, can have a significant impact on the effectiveness of your treatment.
ABOUT YOUR PRAIRIE VILLAGE

, KS

DENTIST

:
With decades of professional dental care experience, native of Kansas City, Robert M Browne, DDS is proud to provide general, cosmetic, restorative, and prosthetic care to patients from Prairie Village and surrounding communities. To learn more or to schedule a visit with Dr. Browne, contact our office today at (913) 901-8585.