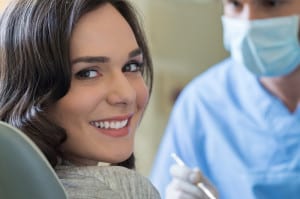 Effective dental care relies on your dentists' ability to see what's afflicting your oral health. Therefore, dentists acquire a glimpse into the depths of your oral health through visual inspection and the use of advanced digital imaging equipment. In the interest of providing our patients with excellent and safe dental care, we utilize the latest in dental technology, including digital X-rays and intraoral cameras, to gain a clearer view of your oral health.
Digital Intraoral Camera
As the name suggests, an intraoral camera is a small camera that projects enlarged images of your mouth, teeth, and gums to enhance your understanding of your diagnosis and possible treatments. The camera makes it easier to spot signs of oral infection or disease than with a small mirror, and detecting these signs early can often determine the success of treatment.
These digital images can also be stored, retrieved, and transferred easily to track the progress of your treatment. Because the images provide a faster and more accurate diagnosis than standard mirror examinations, intraoral cameras equate to less time in the dentist's chair for you.
Digital Dental X-Rays
Like traditional radiography, digital X-rays provide your dentist with a clear picture of your oral health from the inside. Unlike traditional X-rays, which are photography-based and developed from a 35mm film, digital X-rays are viewed on a computer monitor for optimal clarity.
Storing patient X-rays on digital files allows for quick transfer to specialists and insurance companies, saving valuable time. Digital radiography also allows your dentist to spot cavities between your teeth and determine the health and density of your jawbone while producing up to 90% less radiation.
ABOUT YOUR PRAIRIE VILLAGE, KS DENTIST:
With decades of professional dental care experience, native of Kansas City, Robert M Browne, DDS is proud to provide general, cosmetic, restorative, and prosthetic care to patients from Prairie Village and surrounding communities. To learn more or to schedule a visit with Dr. Browne, contact our office today at (913) 901-8585.