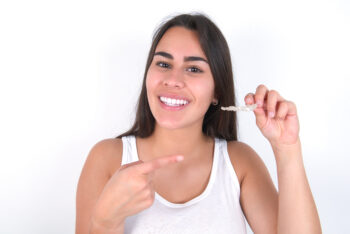 If a gap exists between your teeth, it can be harder for you to show off a smile that makes you confident. Even a small amount of excess space can be unflattering. Fortunately, there are many people who can qualify for a treatment that closes this kind of spacing problem without requiring metal braces. Instead, you will depend on a set of Orthodontic Clear Aligners. Our Prairie Village, KS dentist's office will provide these aligners to help guide teeth that are out of position. As you move from one appliance in your set to the next, you can see gradual overall changes that make your smile more attractive!
Is A Gap Between Teeth A Source Of Embarrassment For You?
A problem with the alignment of your teeth can leave teeth in awkward positions. That can create a gap that draws unwanted attention, and it can also create issues with crowding and a general sense of unevenness that is hard to ignore. While many people feel embarrassed about how their teeth are aligned, it can be hard to inquire about orthodontic care because they worry it will involve conspicuous metal braces. What you can learn is that instead of this approach, you can qualify for care that relies on a set of clear aligners.
Beginning Corrective Work With Clear Aligners
Your treatment with Orthodontic Clear Aligners will begin when you have been confirmed as a good candidate for this service, and your teeth have been evaluated to prepare a set of personalized appliances. Those appliances will be both removable and difficult to see when in place, making your care more conservative than it would be with metal braces. To remain on track with treatment, remember to keep your aligners in place as often as possible during the day. This does not mean they can never be removed, as you are free to take them out whenever you need to clean your teeth or eat!
Looking Into Other Cosmetic Services To Address Spacing Problems
There are times when other cosmetic dental procedures prove effective at fixing spacing issues. A set of porcelain veneers can be carefully made to provide the coverage that you require. While making that change, we can also produce positive results by hiding discoloration, dental damage, and other issues.
Talk To Your Prairie Village, KS Dentist About Treatment To Address Your Smile Gap
When there is a gap present between teeth, it can be hard to feel fully confident in your smile. Fortunately, this is something that can be fixed without the kind of fixed, conspicuous metal braces that people often associate with orthodontic work. For more information on how Orthodontic Clear Aligners can help you, please contact our Prairie Village, KS dentist's office today at 913-901-8585.