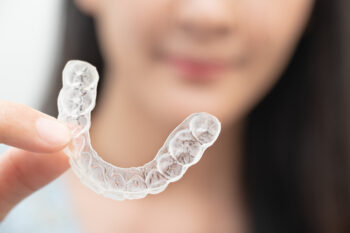 Malocclusion refers to problems with teeth spacing, which can affect people to different degrees. For many who are aware that the problem affects them, excitement about treatment can be balanced against worries that braces will be intrusive and unsightly. By finding a discreet alternative to treatment, you can look forward to a kind of care that improves your quality of life and smile while letting you maintain your typical daily routine! With Orthodontic Clear Aligners, our Prairie Village, KS dentist's office is prepared to help you discreetly move teeth that are not in the right alignment. We can also review other cosmetic services, which can offer faster solutions for problems with gaps and overlaps.
Poor Teeth Spacing Can Take Away Confidence In Your Smile
Despite putting the work in to keep your smile healthy, you can feel self-conscious about its appearance if your teeth are not properly spaced. When gaps or overlaps are present, or when your appearance has an asymmetrical quality that frustrates you, it can be easy to understand the appeal of orthodontic work. What you can find by looking into care is that you can make meaningful changes to your appearance without having to depend on metal braces. With a set of Orthodontic Clear Aligners, you can make important adjustments while only depending on a set of removable, hard-to-see appliances.
Trusting A Set Of Orthodontic Clear Aligners To Change Your Appearance
Orthodontic Clear Aligners are customized appliances that help you shift teeth into their appropriate positions. The set that is provided to you will be designed carefully to make sure they both fit properly and make the right adjustments over time. Their clear appearance helps you wear them without feeling self-conscious, and the ability to remove them will help you avoid problems with your diet and smile care.
What Else Can You Do To Hide Problems With Teeth Spacing?
There are patient who qualify for other forms of cosmetic dentistry when they want to take on poor teeth spacing. For example, you can hide gaps or overlaps with porcelain veneers. These thin restorations can provide enough coverage to make undersized teeth look larger, something that will help close gaps. They can also cover overlaps and other awkward issues.
Talk To Your Prairie Village, KS Dentist About Dealing With Malocclusion
By expressing interest in treatment to fix poor teeth spacing, you can learn about the advantages to treatment with clear aligners. These appliances guide teeth carefully to restore the way you look. Dr. Browne can help you understand the benefits to this and other services that take care of issues with your smile. If you would like to find out more, reach out to our Prairie Village, KS dentist's office at 913-901-8585.