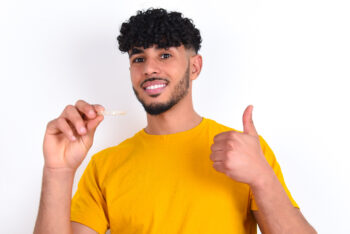 Cosmetic dentistry opens up different paths to beneficial smile changes. At our Prairie Village, KS dentist's office, we can help our patients understand the different options that are available to them. One involves work with Orthodontic Clear Aligners to take on problems with teeth that are not properly spaced. With these appliances, we can gradually move teeth that are too far apart and those that overlap each other due to crowding. They make the process of straightening a smile easier by providing appliances that are removable as well as difficult to see. We can also help you understand the advantages to different services, and we can even review the potential advantage to following corrective work with aligners with additional cosmetic treatment.
Can Orthodontic Clear Aligners Give You Your Desired Smile?
For people who are bothered by malocclusion, Orthodontic Clear Aligners can certainly be beneficial when it comes to cosmetic improvements. With these appliances, we have the ability to gradually move teeth that are not in the right positions. That can lead to the closure of gaps as well as work to even out teeth that appear jagged due to crowding and a general lack of space. Over time, your movement from one aligner to the next in treatment will help make your appearance progressively more attractive.
Beginning Corrective Work With Clear Aligners
Your work with clear aligners will begin after careful measurements of your teeth and oral structures are taken. With those measurements, we can create a set of appliances that will help you make the right corrections over time. Each one will be worn at a designated time, and each will bring you closer to the ideal alignment of your smile.
Reviewing All Of Your Options For Cosmetic Work
Whether you want to look at other options or hope to follow corrective work with additional cosmetic care, we can help! We provide a range of services that resolve problems with poor teeth spacing. Those options include work with porcelain veneers to hide a number of different flaws. We can also follow targeted care for malocclusion with a targeted teeth whitening treatment. By personalizing your care and helping you see truly remarkable changes, we can give you renewed or newfound confidence in how you look.
Talk To Your Prairie Village, KS Dentist About Clear Aligner Treatment
Through treatment with Orthodontic Clear Aligners, our practice is able to make your smile significantly more attractive! We can use these appliances to gradually move teeth that are out of position so that they no longer look awkward and out of place. You can learn more about this and other services that we offer by reaching out to our Prairie Village, KS dentist's office at 913-901-8585.