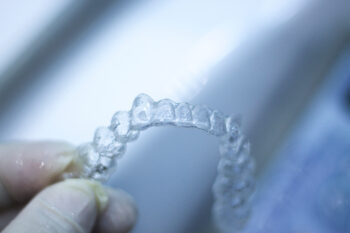 When poor teeth spacing affects a person's smile, it can be harder for them to feel truly confident about their appearance. One reason for this is that a conspicuous gap may exist between two of their teeth, a flaw that can both draw attention to itself and be linked to a larger issue with asymmetry. You can look into your treatment options for this problem and find that traditional metal braces are not the only way to close a gap. Many people benefit from the use of Orthodontic Clear Aligners that make the work of improving smile alignment discreet. Our Prairie Village, KS dentist's office is ready to walk you through the benefits of this treatment approach. We can also look at your spacing troubles to see if another cosmetic procedure might be able to help you.
A Visible Smile Gap Can Be A Source Of Embarrassment And Frustration
When you look at your smile and you see that familiar gap between your teeth, it can be hard to avoid some feelings of frustration. After all, this one imperfection can attract unwanted attention from others, and it can be connected to a larger issue with your teeth appearing to be crooked or uneven. With the right orthodontic work, you can put this issue behind you. Unfortunately, people sometimes hold off on seeking care because they assume that only metal braces can help them. Looking into treatment will help you learn about alternative options, such as treatment with Orthodontic Clear Aligners. Clear aligners make your procedure discreet because you can wear them without drawing unwanted notice, and because they can be easily removed.
Planning Your Treatment With Orthodontic Clear Aligners
Through treatment with your custom clear aligners, you can finally have an embarrassing smile gap closed. Your care will depend on a set of appliances, with each one taking you a step closer to the way you would prefer that your smile looked. Wearing each one for the recommended time can be easier than you anticipate, as they will be hard to see as well as easy to remove at times when they are in your way.
Learn About The Different Services That Can Improve Your Smile
There are times when other cosmetic dental services can prove effective at fixing problems with poor spacing. You can talk to Dr. Browne about closing a gap with porcelain veneers, or through careful bonding treatment. Both of these options make it possible to hide your flaws in a shorter time, so you can have the results you want before an important occasion.
Talk To Your Prairie Village, KS Dentist's Office About Closing A Gap Between Your Teeth
Through work to gradually move your teeth into alignment with Orthodontic Clear Aligners, you can discreetly take on problems with your appearance caused by poor spacing. If you would like to find out more about how we can help you, please reach out to our Prairie Village, KS dentist's office at 913-901-8585.