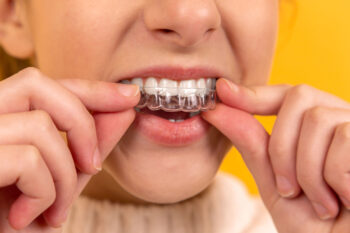 Is there anything you can do about problems with teeth spacing if you are hesitant to undergo treatment with metal braces? Traditional orthodontic appliances can provide many important benefits, including benefits for your oral health, but their appearance can be a concern for many. The inability to remove them on your own can also be a source of concern. At our Prairie Village, KS dentist's office, we can help you take on these issues by using Orthodontic Clear Aligners, a series of removable appliances that can go undetected when in place.
Are You Uncomfortable With Gaps Or Overlaps Between Your Teeth?
Problems with teeth spacing can be difficult to ignore, and they can leave you struggling with a lack of confidence in the way you look. Even minor problems with your smile alignment can be tough to deal with, as any unexpected issues can feel pronounced when it comes to your smile. The good news is that these issues can be dealt with effectively even if you are reluctant to use metal braces. By using Orthodontic Clear Aligners instead, you can make the overall treatment experience easier, as your aligners are hard for people to see and easy for you to remove.
Using Clear Aligners To Make Lasting Cosmetic Improvements
A set of customized clear aligners can help you fix problems with the way your smile looks if you are bothered by uneven spacing. The set of aligners that you receive will be custom-made after a review of your teeth and oral structures, which can ensure you see the right results and that your appliances remain secure when in place. You should keep them in place for as much time as possible, but they are easy enough to take out to let you remove them quickly when you need to eat or clean your teeth.
We Can Talk To You About Achieving All Of Your Smile Improvement Goals
With the right plan in place, you can see many remarkable smile improvements thanks to cosmetic dentistry. For some patients, problems with teeth spacing and additional concerns about the shape, size, or color of teeth can be addressed with porcelain veneers. These custom shells are put in place to cover different problems with the way you look—because this procedure can be completed in just two appointments, you can have your desired results in a surprisingly short time!
Talk To Your Prairie Village, KS Dentist About Improving Your Smile
Through Orthodontic Clear Aligners and other treatment options, we can help you see remarkable smile improvements! We are happy to meet with you so that we can discuss the different services we offer, and their potential benefits. For more information, please reach out to our Prairie Village, KS dentist's office at 913-901-8585.