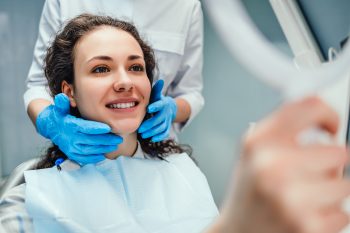 Whether you have a filling or crown in place to protect your tooth, your restoration should provide several important benefits. You should be safe from further injury troubles or infections, you should have the confidence to bite and chew without issue, and if you had work done on a front tooth, you should remain confident in your appearance. While restorations are made to last even as they absorb bite pressure, they can experience issues that need to be addressed by your dentist. Our Prairie Village, KS dentist's office can step in and care for you if you have a filling or crown that feels loose, broken, or insecure. Promptly addressing this problem will protect your tooth and help you avoid further complications.
Is Your Filling Or Crown Starting To Feel Insecure?
It is important that you feel comfortable maintaining a natural bite movement even after restorative dental work. The goal during treatment is to do more than just keep a tooth safe against any further damage. You should also be able to put pressure on it when you bite down. Maintaining a comfortable dental function is important because it protects you against jaw pain and stiffness, and because you can evenly distribute the work of biting and chewing. If a crown or dental filling no longer feels like it is providing protection, you should look into treatment as soon as possible to restore this function, and to prevent potential issues with further damage.
Receiving A Lifelike Restoration To Replace An Older Filling Or Crown
At your appointment, we will take a careful look at your tooth to determine what kind of follow-up treatment is needed. It may be necessary for us to use something other than a new filling to replace an older one, as you may require more support. You can be happy to know that your treatment will supply an appliance that can imitate your tooth structure if you have work done on a visible tooth. While still strong enough to provide bite support, lifelike restorations also help us preserve the way you look after your care.
We Can Check On The Condition Of Your Past Dental Work During A Checkup
Being caught off guard by a problem with a restoration can be frustrating. When you go in for regular dental exams, you will receive regular updates that can warn you about evidence of mounting wear and tear that might call for support. Other important services provided during these visits can help you avoid complications from gum disease, damage from teeth grinding, and the formation of cavities.
Talk To Your Prairie Village, KS Dentist About Replacing A Loose Restoration
Through timely treatment, we can take care of a tooth that no longer has adequate support from an older restoration! For more information, please call our Prairie Village, KS dentist's office at 913-901-8585.