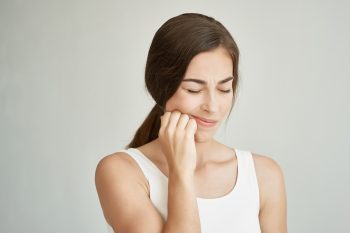 What can you really do to address pain that you experience whenever you move your jaw to bite, chew, or speak? Discomfort that frequently occurs when you move your jaw, or regular aches and pains that affect your face, neck, and head, can point to difficulties with TMJ disorder. There are many reasons why people start to struggle with this problem. To address the matter, we will focus on correcting imbalances in the way your jaw moves, and in the alignment of your joints. In addition to dealing with this problem, your Prairie Village, KS dentist can offer support to help you manage ongoing struggles with bruxism, a problem often related to your jaw troubles.
Is TMJ Pain Interfering With Your Quality Of Life?
Living with TMJ problems can prove difficult. As the problem worsens, it can become more difficult to move your jaw even when you do something as simple as speak, eat, or laugh. The pain can become a persistent issue, one that triggers headaches, neck and shoulder pain, and general facial discomfort. By evaluating your jaw movement and joint alignment, we can determine if TMJ disorder is the reason for your pain, stiffness, and sensitivity issues. Resolving this problem with a custom oral appliance can bring welcome relief!
Using An Oral Appliance To Ease Tension And Pain
Our practice can evaluate your bite movement and oral structures, then use the information we gather to provide a custom oral appliance that addresses TMJ problems. Wearing the appliance at night will help you train your jaw to rest in a more comfortable position, something that can positively affect your movements and reduce overall stress. We should note that we can also evaluate your teeth to look for unresolved dental problems that may affect the way you bite and chew, something that can call for restorative dental work.
Using A Custom Appliance To Address Problems With Teeth Grinding
Teeth grinding difficulties can cause TMJ disorder, or they can occur when you have poor joint alignment or heightened tension that you are not addressing. In either scenario, we may find that both issues need to be addressed to fully help you regain your oral health. A custom appliance can keep your teeth safe from teeth grinding that occurs while you sleep.
Talk To Your Prairie Village, KS Dentist About Your TMJ Pain
Problems with TMJ pain, joint stiffness, and sensitivity can be difficult to ignore. Fortunately, they are not problems that you have to manage on your own! Dr. Browne can meet with you to determine if corrective work to change the way you move your jaw can help you put a stop to ongoing pain. For more information, call our Prairie Village, KS dentist's office at 913-901-8585.