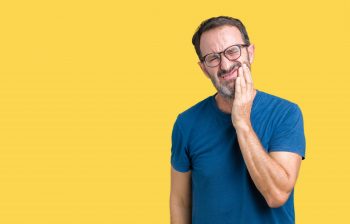 The start of tooth pain can be alarming, and your alarm can keep growing as the problem continues to affect you. Should you keep waiting for discomfort to subside on its own, or should you reach out to your Prairie Village, KS dentist to discuss treatment? If your pain does not go away after a short time, you should be worried. If pain lasts for more than a day, or if you consider it to be severe, reach out to schedule an appointment to undergo care. We may need to perform root canal therapy to restore your oral health. We do welcome patients who wish to schedule emergency dental visits, so we can see you on short notice if you grow alarmed over the state of your oral health and want to receive care as soon as possible.
How Worried Should I Be About Dental Pain That Is Not Going Away?
If your pain has not gone away after a short time, or if you are worried about how much discomfort you feel, you should speak to your dentist. The problem may be linked to an infection. Infections occur when cavities form and are not treated in time. They can also happen when teeth are physically injured, as this can leave them vulnerable to infiltration from oral bacteria. The sooner you act to arrange treatment, the sooner you can have this problem stopped.
Why You Might Need Root Canal Therapy
Root canal therapy can restore your dental health by addressing a problem within your tooth structure. Through root canal therapy, your dentist can remove infected tissues and harmful bacteria within your pulp. By doing so, they can stop an infection from spreading, and they can also put an end to ongoing issues with pain and sensitivity. Once this work is done, we can restore your tooth with a custom dental crown that preserves your smile and protects you from future issues.
Preventing Future Oral Health Problems
Through regular dental checkups and cleanings, you can lower your risk for problems that might call for another root canal. At every visit, you receive early warnings about problems that may not cause active problems for you. By identifying and treating dental decay before you experience discomfort, we can prevent an infection that would require more involved care later.
Talk To Your Prairie Village, KS Dentist If You Need A Root Canal
Through root canal treatment, we can stop a worrying problem with tooth pain and restore your oral health! If you have questions or concerns about your dental well-being because of pain or sensitivity, or if you are affected by another issue, please let us know! For more information, contact our Prairie Village, KS dental office today at 913-901-8585.