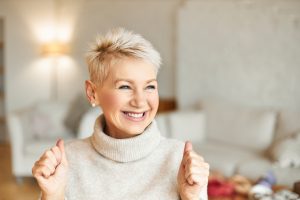 Simply put, it can be hard to smile with confidence if you are too conscious of its flaws. Fixating on problems with discoloration, dental damage, or naturally occurring problems that affect tooth shape and size can be unpleasant for you. So what can you do if you are bothered by these issues? Through cosmetic dental work, you can make exciting changes to your appearance with fewer actual changes to your tooth structure than you anticipate. One thing your Prairie Village, KS dentist can do for you is restore flawed teeth with porcelain veneers. When porcelain veneers are used to take care of your smile, they can help you grow your confidence while making minimal changes to your enamel.
How Do You Currently Feel About Your Smile?
Are you bothered by the color of your teeth? Do you lack confidence because of wear and tear, or due to an injury that has chipped or cracked your enamel? If so, you should know that you do not have to simply accept these flaws. Through a single cosmetic procedure, you can make teeth look brighter, healthier, and younger. Porcelain veneers are custom-made shells that are bonded to the fronts of teeth. They require less preparatory work than dental crowns, but they are still capable of providing improvements that last.
Arranging Treatment With Porcelain Veneers
in order to place porcelain veneers, your dentist will have to measure your teeth carefully, then make minor changes to your enamel. Those changes provide space for your restorations, ensuring that they look natural and fit without issue. After this work is done, you will make plans to return to have your veneers affixed permanently. Once they are confirmed to be the right fit for you, they will be bonded in position so that they can give you the restored smile you want!
What Else Can Your Dentist Do To Change Your Smile?
While veneers are capable of helping under many different circumstances, this is just one of several cosmetic dental procedures that we can recommend. Those who wish to do something about the color of their teeth can choose to have a professional whitening treatment take place. If you hope to move teeth into better alignment, we can recommend Orthodontic Clear Aligners Clear Aligners. These appliances are discreet, and they are capable of making the changes you want in less time than other clear aligners often require.
Talk To Your Prairie Village, KS Dentist About Dental Veneers!
Dr. Browne is ready to work with patients who wish to do something about flaws that hurt their confidence in the way they look. By having porcelain veneers restore your smile, you can show off a brighter, more uniform, and more youthful-looking set of teeth! To learn more, contact our Prairie Village, KS dental office today at 913-901-8585.