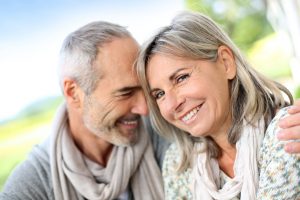 If you are missing a row of teeth, or if you have several gaps in one row, we can give you back your full smile with just a single prosthetic appliance. Dentures have enabled many people to grow confident in their appearance again. With partial dentures, multiple smile gaps are closed at one time with a custom restoration that provides replacement teeth for all that have gone missing. A full denture is designed to replace all of the tooth in one row. Our Prairie Village, KS dentist's office is prepared to talk with patients about the benefits of these prosthetic appliances. We can also speak to you about the advantages of having restorations held in place with dental implants, which provide support for biting and chewing and permanently hold a prosthetic in place.
What You Gain From Having Your Incomplete Smile Restored
An incomplete smile can rob you of confidence and severely restrict your diet. Even one missing tooth is enough to cause real problems, and the effect on your quality of life can grow as more teeth are lost. When you have a restoration created to replace what is currently missing, you gain more than just the ability to show off a full smile again. A prosthetic can support neighboring teeth to keep them secure. A full denture can help you bite, chew, and speak with more comfort, particularly when it is held in place with dental implants.
We Can Provide You With A Denture Designed To Provide A Comfortable Fit
Dentures need to be custom-made to provide the right fit for a patient. Because of this, we take care to closely measure a person's remaining teeth and bite structures so that their partial or full denture is the appropriate shape and size. We will confirm that it is the right size when you come to have it restored, or put in place. You should feel natural when speaking, biting, and chewing. With implants in place to hold a restoration, you can avoid problems with jawbone deterioration that may affect the stability of dentures in time.
Should You Have Dental Implants Put In Place To Hold Dentures?
While dental implants are not always used to restore a patient's restoration, they are often relied on to keep a prosthetic secure. We can use a select number of implants to hold a partial or full denture for you. By doing so, we can ensure that you continue to enjoy stimulation in your jawbone, which prevents the deterioration of the bone. Implants also help to secure restorations so that they do not slip or come loose at inopportune times and embarrass you.
Talk To Your Prairie Village, KS Dentist About Dentures!
Through the use of partial and full dentures, we can give a patient their full smile back! To find out more about prosthetic dental services offered at our office, contact our Prairie Village, KS dental office today at 913-901-8585.