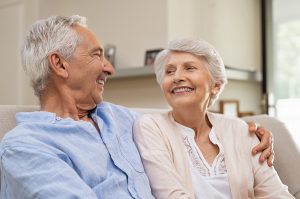 A person who loses even one tooth can quickly grow tired of the effect that loss has on their quality of life. Just one gap can leave you uncomfortable while biting and chewing, and it can have a concerning effect on the way you look. Fortunately, more than one option for prosthetic dental treatment is available to patients at our Prairie Village, KS dentist's office! We have experience serving patients who needed to replace one missing tooth, but we are also prepared to help those who have experienced more significant losses. The right appliance can help you rediscover confidence in your smile, and it can also make it easier for you to bite and chew again!
What Can I Really Count On From Prosthetic Dental Work?
If you are just focused on improving your smile by addressing tooth loss, you can find treatment options that make you happy. What you should know is that in addition to helping you smile with greater confidence, you can also find that a restoration makes it easier for you to practice a comfortable, confident dental function. Dental bridges and restorations held in place with dental implants are permanently secured, and they are stable enough to let you put bite pressure on them. Dental implants offer an additional benefit – when they are put in place, you can count on them to stimulate your jawbone so that you can protect yourself against a loss of mass.
Discussing Smile Improvements Made By Dental Bridges And Dentures
Dental bridges can address a single lost tooth, or they can help you restore several in one space. With dentures, it becomes possible to address tooth loss on a larger scale. The dental bridge constructed for you will contain a pair of dental crowns. Each crown fits over one of the teeth around a gap. Having the crowns secured will effectively hold your restoration, which allows you to rely on it when biting and chewing. Dentures can be permanently held if you have dental implants to support them. While people often picture a denture that replaces all of the teeth in a row, a partial denture can close multiple gaps while letting you retain your remaining teeth.
Using Dental Implants To Restore Your Bite
With dental implants, it becomes possible to hold a dental crown, dental bridge, or even a denture in place by securing the restoration to your jaw. Implants act the way roots do to hold natural teeth in position. After careful planning, dental implants can be set in place directly in a person's jawbone. Once you have received your implants and healed from the process, you can return to our practice to receive a custom restoration to give you back your smile!
Talk To Your Prairie Village, KS Dentist About Prosthetic Treatment!
Dr. Browne has helped many people regain confidence in their bite, and comfort with their dental function, through carefully planned prosthetic dental work. If you wish to learn more, contact our Prairie Village, KS dental office today at 913-901-8585.