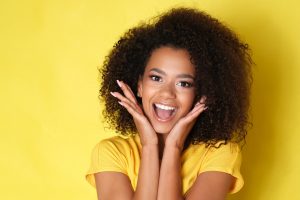 Even if a dental injury does not cause oral health concerns, it can have a decidedly undesirable impact on the way you look. In situations where restorative work is not required, cosmetic dentistry can provide a more conservative solution for damages to teeth. Your Prairie Village, KS dentist is able to address problems with the condition of your smile by placing custom porcelain veneers. Porcelain veneers only cover the fronts of teeth, so less preparatory work is needed to make room for them. These restorations can be designed carefully so that they appear natural as they effectively hide chips, cracks, and other problems that might result from a dental injury.
Veneers Can Restore The Appearance Of Teeth That Are Chipped, Cracked, Or Worn
With porcelain veneers, many positive smile changes are possible. Does your smile look unhealthy or uneven because of teeth that were damaged? With veneers, your dentist can make your smile appear symmetrical, and also correct any issues with the condition of teeth that previously looked unhealthy. Veneers are also capable of restoring teeth that look prematurely aged by wear and tear.
We Can Place Veneers Specifically Designed For Your Smile
In order to provide ideal cosmetic improvements, veneers should be made to precisely fit on the front of teeth. This is done to make sure they are not noticeable, and to give your smile an ideal correction. Before your veneers are made, you will visit your dentist for important preliminary work. This includes carefully measuring your teeth, as well as some preparatory work to make space for veneers. This first appointment also gives you a chance to talk about how you want to look after your cosmetic work is completed.
Tips To Avoid Dental Damage In The Future
Bruxism, or frequent teeth grinding, can lead to wear and tear that worsens over time. Many people do not realize that the reason they wake up with facial soreness and sensitivity is often because they have been grinding or clenching their teeth while resting. By addressing this problem, you can protect yourself from visible damage to your enamel. To further avoid dental trauma, wear a mouth guard when playing sports, and be careful about idly biting or chewing hard surfaces.
Talk To Dr. Browne About Receiving Veneers To Restore Your Smile!
At our Prairie Village, KS dentist's office, patients who are concerned about their smile because of dental damage can schedule treatment with porcelain veneers. With veneers in place, you can feel a renewed confidence in your smile after covering up physical damage, as well as problems like discoloration, wear and tear, and even some alignment troubles. To learn how Dr. Browne can use veneers to improve your smile, contact our Prairie Village, KS dental office today at 913-901-8585.