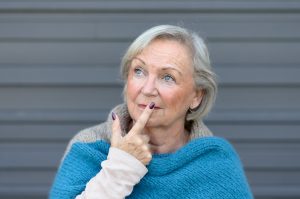 When you have a dental bridge put in place to address the loss of a tooth (or several adjacent teeth), you can count on the restoration to support your smile while also helping you bite and chew comfortably. What has to happen to ensure that your bridge remains secure, and offers lasting support? These prosthetic restorations manage to stay in place without oral surgery because they are held by a pair of dental crowns. The crowns are placed over the teeth surrounding a gap, and act as stabilizing forces to keep your pontic (replacement tooth) in the exact right position. This is not your only option for prosthetic dental work if you want to have a permanent restoration, as our Prairie Village, KS dental office can talk to you about the benefits of dental implant support as well.
Dental Bridges Remain In Position Without Oral Surgery
Dental bridges remain securely in place after they are affixed because of a pair of dental crowns. The crowns are attached to each end of your restoration. When set on your remaining teeth, they make it possible to have long-term support for your restoration without any need for oral surgery. This makes the dental bridge popular for people who want to minimize treatment, and for people who are concerned about undergoing oral surgery.
Placing A Custom Dental Bridge
The custom dental bridge that you receive will be custom-made in order to provide an ideal fit. The size and shape of the bridge is important for providing a natural look, and for remaining comfortable over the years. When your bridge is ready, your dentist will affix the dental crowns to the teeth on either side of where your restoration is needed. Once secured, you can enjoy the cosmetic and functional benefits of a permanent restoration. Patients who have a permanently held bridge can find that it is dependable when they bite and chew, while also remaining unobtrusive when they speak.
What Else Can My Dentist Do To Provide A Permanent Dental Prosthetic?
Dental implants secure teeth to your jawbone. They effectively act the way the roots of teeth act to keep them in place, and they help to ensure that neighboring roots do not shift. Many people prefer to have dental implant support because it does not require work on healthy teeth, and because the implant can stimulate your jawbone and prevent deterioration from occurring.
If you have significant tooth loss, dentures are available. Both full and partial dentures are available to help people with different needs. These larger restorations can be held by multiple dental implants.
Talk To Dr. Browne About Receiving A Secure Dental Bridge
At our Prairie Village, KS dental practice, Dr. Browne is ready to restore your incomplete smile! You can have a permanent dental bridge secured, or discuss other treatment options like dental implant-held restorations. To learn more, or to make an appointment with Dr. Browne, contact our office today at (913) 901-8585.