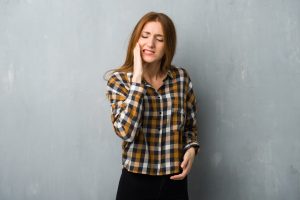 When you have issues with bruxism, you can grind your teeth throughout the night while you sleep, and wake up to issues with tooth pain and sensitivity, as well as discomfort in your jaw joints. You should be aware that if you try to ignore the problem, and allow it to worsen, you can experience noticeable dental damage, including chips and cracks in teeth that require restorative dental work! At our Prairie Village, KS dental practice, you can talk to Dr. Browne about your problems with bruxism, and look forward to treatment. Our office is ready to help you deal with teeth grinding issues and related problems like TMJ dysfunction, or dental damage.
Your Nightly Issues With Teeth Grinding Can Lead To Serious Problems
While you can stop yourself from grinding your teeth while awake, you will not be able to control your impulse to clench your jaw while you sleep. As a result, you can wake up with sore or sensitive teeth on an ongoing basis, and eventually start to see visible evidence of dental wear and tear. When this becomes a problem, you should seek out treatment as soon as possible. If you do not take steps to resolve your problems with bruxism, you can experience issues with more significant dental damage, and you can experience serious discomfort due to the stress you are continuing to place on your jaw.
Stopping Bruxism With A Special Oral Appliance
To help you protect your smile each night, your dentist can provide you with an oral appliance that keeps your smile safe. This custom-made guard will keep your teeth separate, and stop you from harming them through the clenching of your jaw. When you correct a problem with nightly teeth grinding, you can avoid suffering chipped or cracked teeth, and you can relive jaw stress that causes headaches, facial pain, and other concerns.
We Can Take Care Of Problems Related To Bruxism, Too!
Have you already started to feel the unwelcome effects of bruxism in your daily life, or have you noticed problems with the condition of your teeth? We can talk to you about addressing dental damage with dental crowns. Restoring chipped or cracked teeth with lifelike crowns can give you back the ability to bite and chew, while also making you more confident in your smile. If dental damage is addressed before it becomes an oral health issue, you may only require cosmetic dental work. This can involve less work on your natural tooth structure, while ensuring you feel good about how you look when you smile!
Talk To Dr. Browne About Dealing With The Effects Of Bruxism
Dr. Browne is ready to help individuals in and around Prairie Village, KS who are concerned about the effects of bruxism! To learn more or to schedule an appointment at our practice, contact our office today at (913) 901-8585.