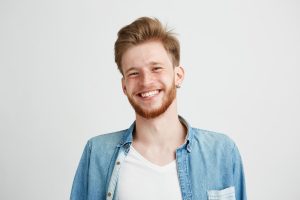 Do you feel like real improvements to the color of your smile have been elusive? Are you worried that there is nothing available to you that can lead to results that people will notice? At our Prairie Village, KS dental office, we can provide you with professional cosmetic dental treatment that can offer noticeable improvements! We can provide our patients with a custom take-home whitening kit that uses stronger whitening agents than store bought products. These kits are able to remove significant and stubborn stains to ensure dramatic improvements. We can also help you see results if your problems are the result of something other than teeth stains, as we can provide alternative cosmetic dental procedures that can brighten teeth.
Store Bought Whitening Products Can Lead To Disappointment
People can grow disappointed in the relatively minor changes that they see when they use store bought whitening products to take care of stains. Products that you can pick up at a store have the ability to help you remove surface stains, but you may not see the results you want if you are looking for more dynamic improvements. The take-home whitening kits that we provide deliver significant improvements by dealing with accumulated stains, and by oxidizing your tooth structure. Using the kit over the course of ten to fourteen days can lead to improvements you are eager to show off!
Is Your Smile Discolored Because Of Stains, Or Have Internal Issues Impacted Your Tooth Color?
Dental injuries, enamel erosion, side effects from medication, and more significant cases of fluorosis can all cause discoloration that a whitening procedure is less effective against. To help you with these issues, we can discuss other cosmetic dental procedures. Instead of trying to target enamel stains, we can use porcelain veneers to cover teeth with attractive, durable shells that can improve their color. This work can also enable you to improve the shape and size of certain teeth.
Discussing Your Full Goals For Cosmetic Dental Work
If you want to show off your best smile, our practice can work with you to reach your goals. We can send you home with a whitening kit, or use porcelain veneers to cover up flaws that bother you. If you want to see changes in a short time, you may be able to finish cosmetic improvements to certain teeth in just one appointment when you schedule dental bonding and contouring work. We can even help you deal with frustrating dental alignment issues, as we offer smile corrections with MTM Clear Aligners.
Talk To Dr. Browne About Making Your Smile Whiter And Brighter
At our Prairie Village, KS dental practice, Dr. Browne is prepared to help patients who are struggling to improve the color of their teeth. This is one of many cosmetic services that we are ready to provide those who want to feel great about their smile! To learn more about our services, or to schedule a visit with Dr. Browne, contact our office today at (913) 901-8585.