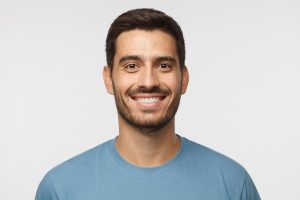 Taking the time to speak with your Prairie Village, KS dentist about crooked teeth can lead to positive developments. This is because your dentist can offer treatment with MTM aligners, which rely on clear aligners to make changes to your smile. These aligners are constructed with the intent to focus on adjusting teeth that are more important for your smile. As a result, your adjustment can be completed in less time than you expect, and you can see impressive changes. If you find yourself studying your smile and wishing you could make changes, you should know that cosmetic dental care can have remarkable benefits, which can be easier to enjoy than you expect.
Correcting Crooked Teeth Can Have Many Benefits
Correcting crooked teeth can certainly lead to the sort of smile improvement you are eager to make. You can have a more even, symmetrical smile by bringing teeth that are too far apart, or that overlap awkwardly, to more appropriate positions. You can also make changes that benefit your oral health. Your bite alignment can benefit from the changes made by MTM aligners, and you can improve on the spacing of overlaps that are hard for you to clean.
Working With Your Dentist To Make Amazing Smile Changes
Through cosmetic dental work, amazing smile changes are possible. MTM aligners can improve your smile in less time than you might expect an orthodontic treatment to demand. With that said, you can enjoy changes in even less time if you have porcelain veneers placed. Your veneers can actually hide some small gaps and overlaps, in addition to helping you hide discoloration, and problems with the shape or size of teeth.
Talk To Dr. Browne About Improving Your Smile With MTM Aligners
For patients who are eager to address smile alignment flaws, MTM aligners can offer exciting benefits. You can make changes that improve the way you look in less time than you expect. You can talk to Dr. Browne about the benefits of MTM aligners, or look into other cosmetic treatment options. To learn more, or to arrange your meeting with Dr. Browne, please contact our office today at (913) 901-8585.