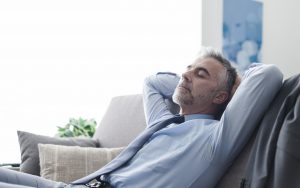 How do you feel right now? Hopefully, you are comfortable and content, and can stay that way. When it comes to dental work, particularly restorative dental work, some patients worry that discomfort is unavoidable. Fortunately, your Prairie Village, KS dentist's office is ready to help you avoid unpleasant feelings. If your discomfort is compounded by anxiety, or if you need to have more involved treatment, you may want to address your sedation options with your dentist. In addition to offering this benefit, you can also enjoy a more comfortable experience after restorative work, thanks to OraVerse. This treatment can bring a timely end to feelings of numbness around your mouth, while leaving your tooth appropriately desensitized.
Worried About An Upcoming Procedure? You Can Ask About Dental Sedation
Dental sedation is important to overall care because it can help people successfully address feelings of unease, and discomfort during treatment. In some cases, sedation is something to offer patients who find it difficult to seek oral health care generally. With that said, a patient who normally has no issues can be worried due to the need for treatment that may take longer, or be more intrusive. If you feel unusually concerned about a specific procedure, you can bring up sedation with your dentist.
How OraVerse Helps You Return To Your Routine After A Procedure
Anesthesia provides a better patient experience, but there is one common drawback – you may find it hard to return to your normal routine due to lingering numbness. OraVerse speeds up the return of sensation in your lips, which can make it easier to speak, and less awkward to be around others. The numbing effect can continue for the tooth you had worked on, so you will not have to worry about the onset of pain due to OraVerse.
Dr. Browne Help You Feel Comfortable During Dental Care
A comfortable patient experience is a better patient experience. If you want to learn what your options are for patient comfort, talk to Dr. Browne. Sedation and OraVerse can both offer improvements to the quality of your treatment. To learn more, or to schedule your visit with Dr. Browne, contact our office today at (913) 901-8585.