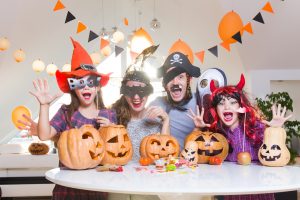 Your family has two opportunities to enjoy some frightening fun during Night Of The Living Farm! On Friday, October 19-20, and October 26-27, you can head to the Deanna Rose Children's Farmstead to enjoy some spooky outdoor fun, as well as some non-scary Halloween activities. There will be several events and activities for kids to take part in, and the event helps to raise funds for Friends Of The Farmstead! You can take advantage of these two opportunities to revel in the Halloween spirit, before the night itself. It can be hard to beat the fun of the Halloween season, but remember that it is possible to overdo it with candy, and experience the not-so-fun reality of cavities. Your Prairie Village, KS dentist is ready to help if you need to deal with dental trouble!
When:
The first weekend of Night Of The Living Farm will be Friday, October 19 and Saturday, October 20. The second weekend of this event is being held on Friday, October 26 and Saturday, October 27.
Where:
The Deanna Rose Children's Farmstead is located at 13800 Switzer Rd, Overland Park, KS.
Cost:
Tickets are $10. Friends Of The Farmstead members can enjoy a discounted rate of $9.
Activities Include:
You can enjoy a number of scary and non-scary activities that the whole family can enjoy!
For More Information:
For more information about week one of this event, click here. For more information about week two, click here.
Schedule Your Next Dental Visit With Dr. Browne!
You can look forward to effective dental care for your family with Robert M Browne, DDS! To learn more or to schedule a visit with Dr. Browne, contact our office today at (913) 901-8585.