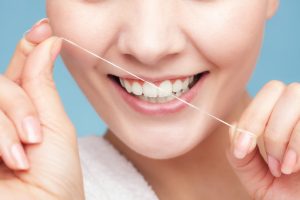 You may not know what to think when it comes to making a connection between flossing and pain. Should dental hygiene sessions hurt? Should you be experiencing pain if you're not performing the flossing we have recommended? Why do these sensations occur at all? Fortunately, we can quickly fill you in on the details, so you're much better equipped to protect your oral health and to better understand it.
If You Don't Floss, Pain Is Likely
If you don't floss at all, pain is likely in your future. Why is this so important if you want your smile to feel good? Well, when you're only practicing the brushing part of your dental hygiene sessions, you're ignoring the places between your teeth and the little spaces under your gum tissue. Plaque and food particles left behind will eventually yield decay or gum inflammation, which will cause pain. Floss your smile and this simply will not occur.
If You're Flossing Wrong, It Might Hurt
Flossing correctly means you're thorough and gentle. If you're not gentle but you're quite aggressive or quick about it, you might hurt your gums. Remember that the soft tissue can become cut or irritated when you're forceful, so use a soft touch.
If It's Been A While, You'll Need To Adjust
If it's been quite a while since the last time you flossed during your dental hygiene session, remember that it may feel a little uncomfortable at the start. You may end up with a tiny bit of bleeding. Make sure you visit us ASAP if you're getting started with flossing again, so you'll know whether your gums are healthy and this bit of blood is normal or if you have gingivitis.
See Us For Hygiene Help
We are happy to offer you dental hygiene facts, tips, and help to ensure you're taking wonderful care of your smile. Learn more by scheduling a visit in Prairie Village, KS by calling Robert M Browne, DDS at (913) 901-8585.