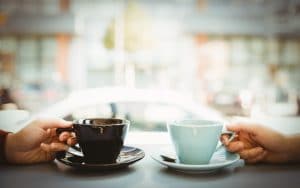 Guess who's going to be at the neighborhood coffee house? Why, it's none other than our Prairie Village Police Department. Have questions? Never miss your morning cup of Joe? Well then, Coffee With A Cop just might be the event for you!
What Is This?
Coffee With A Cop is a neighborhood meet up with friends, community members, and police officers from our Prairie Village Police Department. Grab some coffee (and maybe a pastry, too!), sit down, relax, ask questions, listen to answers, bring up things you've been thinking about, and get to know our neighborhood even better.
When Is It?
The coffee event will be taking place bright and early on April 13th, 2018 from 7am to 9pm.
Where Is It?
Show up for coffee and time to talk with our local police force at Panera Bread, located at the following address:
8300 Mission Road
Prairie Village, KS 66208
How Can I Learn More?
Feel free to call Sgt. Ivan Washington at 913-385-4603 for more information.
Schedule Time For Professional Smile Care With Us
Not sure what you need but you know that your smile could use a visit or two? Give us a call to schedule a checkup! Learn more by scheduling a visit in Prairie Village, KS by calling Robert M Browne, DDS at (913) 901-8585.