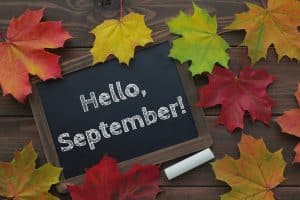 Are you ready for September because it means fall is finally on its way? Are there pumpkin-flavored treats you've been so patiently waiting for? From the land of dental care, September happens to represent more than autumn foliage and spiced beverages. As a matter of fact, it's National Gum Care Month! So, if you can fit this one additional detail into the mix, we encourage you to spend some time recognizing it. When you become very familiar with how to keep your gum health safe, it becomes an easy-to-accomplish part of daily life.
Check That You're Up To Date On Visits
In order to recognize National Gum Care Month, we strongly advise you to flip through your day planner, to check out your phone calendar, or whatever you use to track your visits. See if you've been keeping up with six-month cleanings and checkups and whether you're due for another. If so, call us to set up your visit, so your gum health remains protected.
Check That Your Products Are Just Right
It's always a good idea to make sure you've got enough dental hygiene products to care for your smile (nobody likes running out of toothpaste, after all) and that they're on target for gum health. Keep the following in mind: You'll need nonabrasive toothpaste, soft bristles on your toothbrush, and floss to keep gums safe.
Check Your Gum Care Attention
Check in for a moment on how you're doing with your gum health care. Are you brushing along your gum tissue, while holding your brush at a 45-degree angle? Good! Are you flossing once a day? Fantastic. Do you make sure you brush not once but twice a day? Perfect.
Protect Your Gum Health With Preventive Visits
Come see us for your preventive visits, so we may ensure your teeth are healthy as well as your gums. Learn more by scheduling a visit in Prairie Village, KS by calling Robert M Browne, DDS at (913) 901-8585.