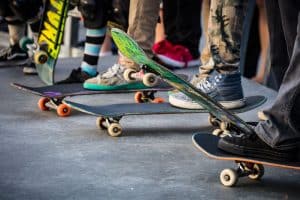 Has your son or daughter been a bit obsessed with skateboarding recently? Are you supportive of the sport but you really don't know the first thing about where to begin and your main concern is making sure your kid has fun, while staying safe? Well then! You won't want to miss out on the Skateboarding 101: Session 3 event coming right up.
About the Event
This community event is an opportunity for your children ages three through 12 (both boys and girls are welcome!) to come out to learn all about the basics of skateboarding. From what to wear to remain safe to how to approach a skate park and the introductory know-how needed to actually ride a skateboard, this workshop offers it. (Note: Your child must arrive with a skateboard and helmet. Pads for knees and elbow are strongly suggested).
Event Location
The event will be ongoing, taking place at the Prairie Village Skate Park, located at the following address:
Mission Road & 77th Street
Prairie Village, KS 66208
Event Date and Time
The sessions will meet on Saturdays from 10:00am to 11:30am on the following dates: July 29th, August 12th, August 26th, and September 16th, 2017.
Event Admission
The class costs $50 per person. You must register to join!
Contact Information
Contact instructor Dan Mapes at [email protected] for further details.
Receive The Dental Care You Need With Our Help
Remember that coming in for twice-a-year professional checkups and cleanings is essential for smiles that remain healthy (in addition to home care). Learn more by scheduling a visit in Prairie Village, KS by calling Robert M Browne, DDS at (913) 901-8585.