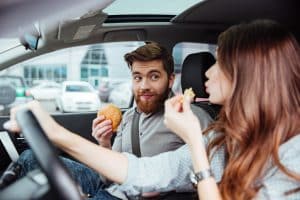 When you think about your smile care and dental hygiene routine, you likely visualize yourself in your bathroom, standing in front of your sink. However, you probably don't spend a lot of time thinking about taking care of your oral health in your car. While this may seem like the unlikeliest of places to consider, we encourage you to recognize that since most people spend a significant amount of time in their automobiles, it's worth considering! Learn more!
Things To Avoid In Your Car
While you're driving, you have access to a ton of drive-thru restaurants and coffee shops. You technically might also have a free hand some of the time. As a result, you might think of your drive as time to drink coffee or soda, eat snacks, and more. We suggest against extended snacking. Aside from the fact that it's not the safest, it's also not great for your oral health. The longer you're in your car snacking, the longer your teeth are exposed to sugars and acids!
Things To Carry In Your Car
It's always wise to carry a few things in your car that can help you clean your smile at the drop of a hat. Do you have dental floss? Sugarless gum? A travel toothbrush and toothpaste just in case? When you least expect it, you might need to clean and freshen your smile.
Things To Remember About Road Trips
Protect your oral health by remembering it's still just as important out on the open road. Keep your dental hygiene kit front and center (instead of packed and off limits somewhere in the back or the trunk), so you can access it whenever you need to.
Protect Your Smile In More Ways Than One
Gather interesting tips for keeping your smile safe when you talk with us about your oral health during cleanings and checkups. Learn more by scheduling a visit in Prairie Village, KS by calling Robert M Browne, DDS at (913) 901-8585.